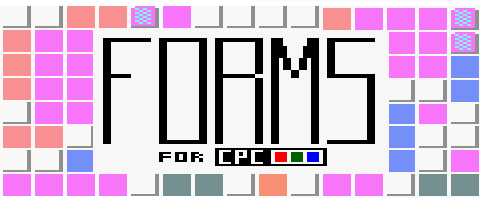 Forms (Amstrad CPC)
Forms is a tetris-like game for your Amstrad CPC, in which you'll have to place as many forms as possible on a grid, to complete lines and colums and make them disappear.
The game ends when you are not able to place any more Forms.


Forms is fun and easy to play, but hard to master. Give it a try.

Install instructions
This is an Amstrad CPC game. You can load the disk file (dsk), tape file (cdt), with your favourite emulator, or if you are a brave user, you can transfer it to M4, C4CPC, Gotek disk drive, etc... and play it in the original machine.
Just type run"" for the tape, or run"loader for the disk version, once the media is properly inserted. This game was created originally as an entry in the 2023 CPCRetroDev contest, and the full package includes binaries, snapshots, video clip, user manual and source code.